Ethics-Breaking Crimes: A Social Field Study in Baghdad City
حنين حسن عبد الله, و عدنان ياسين مصطفى
Haneen Hassain Abd allah

Adnan Yasin Mustafa
Keywords:
Crimes, Ethic Rules, Violations
Abstract
Crime has become a phenomenon associated with human socialization.  Wherever human groups are found, a crime, which differs from one society to another, is found. It is one of the most dangerous social issues that undermines the solidarity of a given society. This is because it establishes a takeoff from community's norms, values, customs and traditions, and thus turns into a danger to the lives of people, groups and society that threatens its strength and security. The paper focuses on the crimes that violate the social law, like child rape, incest and electronic extortion, which are increasing in size, increasing as a result their repercussions on the human society. The study seeks several objectives, including: examining the nature and dimensions of crimes that violate the values and system of social control and their repercussions. It also investigates the reasons that led to the spread of these crimes breaching accordingly the social law and the value system. This study is a descriptive and analytical one which relied on the social survey using a sampling method. The sample of the study was 150  intentionally selected inmates deposited in some prisons of the Iraqi Correctional Department of perpetrators of child rape, incest, electronic extortion. Besides, 50 social workers and researchers were intentionally selected, too. The data was processed statistically, using (SPSS) program. Moreover, observation, interview tools were used to record information. Results have shown that most of the perpetrators of social transgression crimes, (61.3%), are of lowest levels (illiterate, read and write, primary). Further, the majority of the sample members are males, (127) with a percentage of (84.7%). Finally, it has been found that most sample members (58.0%) came from poor class and sufferred from conditions of weakness.
Downloads
Download data is not yet available.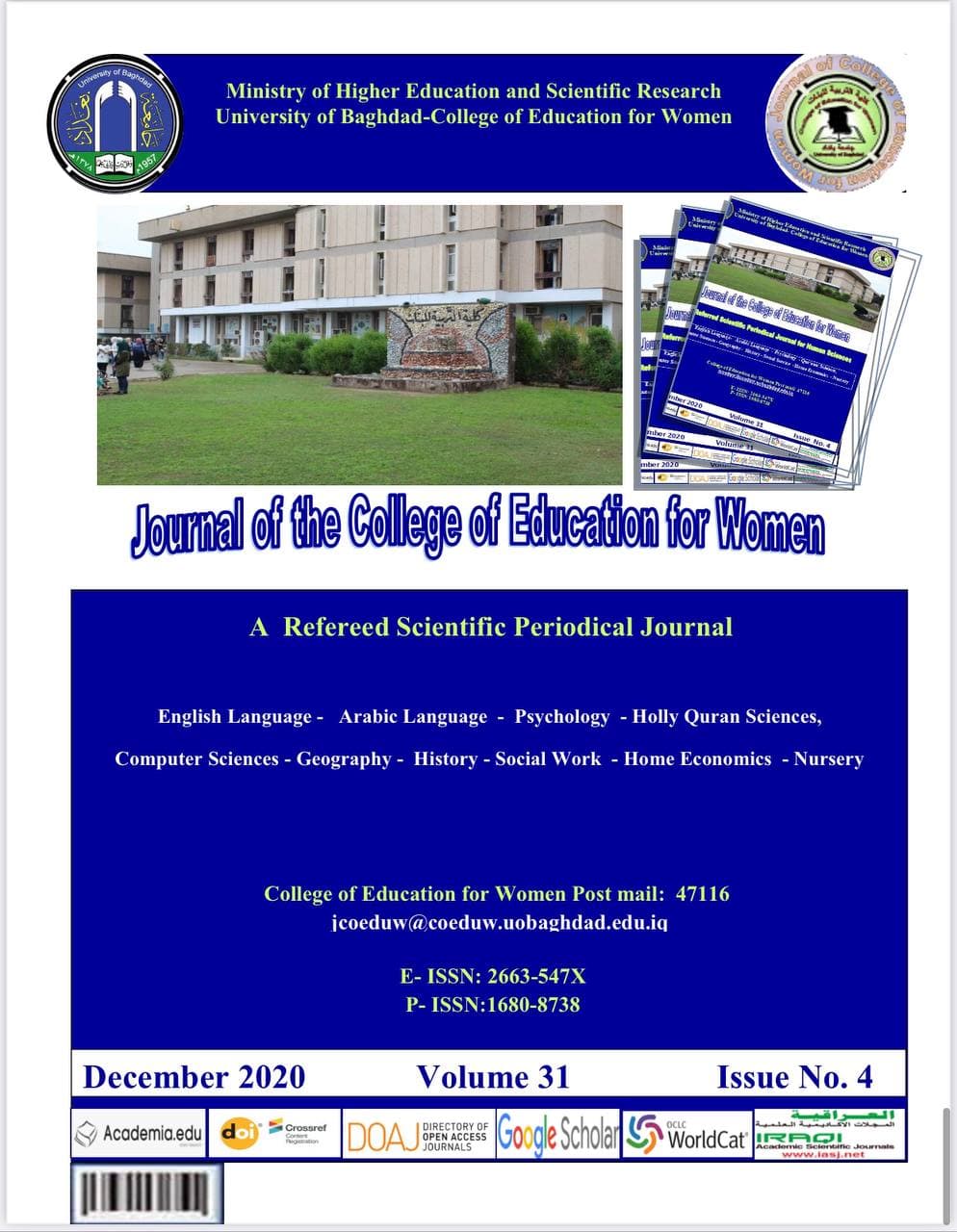 How to Cite
Abd allah, H. H., and A. Y. Mustafa. "Ethics-Breaking Crimes: A Social Field Study in Baghdad City". Journal of the College of Education for Women, Vol. 31, no. 4, Dec. 2020, pp. 143-59, doi:10.36231/coedw.v31i4.1438.

All articles published in Journal of College of Education for Women are licensed under a Creative Commons Attribution 4.0 International License.