Unplanned Urbanization and Agricultural Land Degradation in Baghdad City from 2003 to 2017
احمد عباس كاظم , ليث زيد عباس
Ahmed Abbas Kadhim

Laith Zaid Abbas
Keywords:
Basic plan, housing factor, Land use, Legislation, Urban expansion, Urban Planning
Abstract
Several problems have emerged as a result of urban expansion or the connection of urban areas with rural areas. This process has led to the urbanization of rural areas, and to have overlapping edges and margins of areas, which were outside the basic design of the city. Accordingly, the present research assumes that the accelerating growth of Baghdad population has contributed significantly to the process of unplanned urbanization. Thus, the study aims to examine the factors that have led to an increase of urban sprawl at the expense of the agricultural land. The study has thus adopted the descriptive, analytical, and historical approaches relying on the simple linear regression method to predict the phenomenon of urban expansion and its impact on the agricultural land. It has also included illustrative maps used in the preparation of geographic information technology (GIS).The study has concluded that the events of Iraq after 2003, the absence of legal rules, weak legislation, and the successive large immigrations from the countryside to the city have all led directly to a great increase in the process of housing expansion at the expense of agricultural lands. The research recommended the necessity of finding final solutions to the problem of encroachment on agricultural lands, establishing new and low-cost urban housing with full facilities and services, simplifying the procedures of building  licensing,  and reducing fees.
Downloads
Download data is not yet available.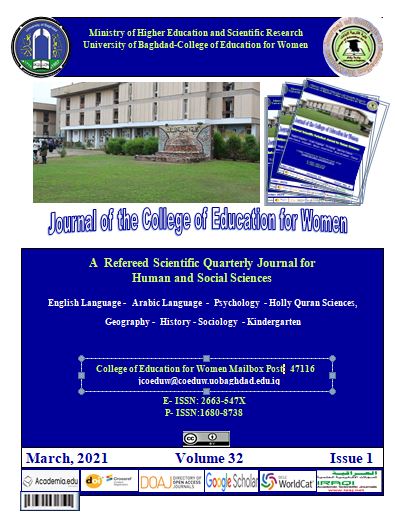 How to Cite
Kadhim, A. A., and L. Z. Abbas. "Unplanned Urbanization and Agricultural Land Degradation in Baghdad City from 2003 to 2017". Journal of the College of Education for Women, Vol. 32, no. 1, Mar. 2021, pp. 1-17, doi:10.36231/coedw.v32i1.1474.

All articles published in Journal of College of Education for Women are licensed under a Creative Commons Attribution 4.0 International License.