The Effect of Natural Factors on the Cultivation and Production of Sesame Crop in Al-Qadisiyah Governorate
كوثر ناصر عباس
Keywords:
Natural Factors, Qadisiyah, Sesame
Abstract
Sesame crop, one of the very important oily, industrial, and summer crops that is economically important, has been investigated. The plantation and production of this crop has been studied in Al-Qadisiyah governorate during 2003-218. This is because this governorate is well-known by sesame plantation. Such a study helps to know the geographical distribution of sesame agricultural season in 2017-2018, and explore the most important natural factors that affect its plantation. Different research approaches have been adopted based on that facts that need to be met. A field study approach has been used in studying sesame crop descriptively and conceptually, shedding light on its nutritional and economic importance. Moreover, a descriptive comparative approach has been adopted when studying the geographical factors to know about the factors that affect its plantation and production in the area in question. Results have shown that climatic conditions of the area is suitable for its plantation and production. However, the soils of Al-Qadisiyah are of various categories. The best category is the riverbank soil, then comes river basin soil, and the depression soil of poor drainage. The latter has been invested after reclaiming it through planting the rice crop. Another type of soil is the sand dune soil which is unsuitable for agricultural production. Another type is the gypsum desert soil, which is agriculturally poor. Results have further revealed that rivers are considered the main surface water resource in the irrigation process as represented by the Euphrates Riverand its branches within the governorate. This is due to the lack of rain and its fluctuation. 
Downloads
Download data is not yet available.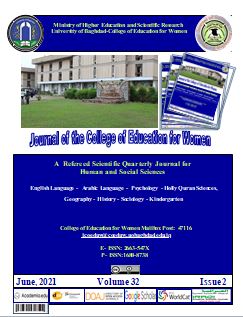 How to Cite
Abbas, K. N. "The Effect of Natural Factors on the Cultivation and Production of Sesame Crop in Al-Qadisiyah Governorate". Journal of the College of Education for Women, Vol. 32, no. 2, June 2021, pp. 131-46, doi:10.36231/coedw.v32i2.1496.

All articles published in Journal of College of Education for Women are licensed under a Creative Commons Attribution 4.0 International License.