The Sources of Organizational Power Prevailing among Academic Leaders at University of Tabuk and its Relationship to Institutional Creativity from the Viewpoint of Faculty Members
شروق بنت عبد الخالق الأسمري , علي بن حسن القرني
Shurooq Abdul-Khaleq Al-Asmari

Ali Hasan Alqarni
Keywords:
academic leadership, institutional innovation, organizational strength, University of Tabuk
Abstract
This study aims to examine the sources of organizational power prevailing among the academic leaders at the University of Tabuk from the faculty members' viewpoint. The purposes behind such an aim are: to reveal the level of administrative and technical institutional creativity, the nature of the relationship between the reality of organizational power and the level of institutional creativity, and to disclose statistically the significant differences between the averages of faculty members' responses attributed to the demographic variables (gender,  years of experience, academic degree). The study used the descriptive approach, both survey and correlational. A questionnaire was used to collect data from a simple random sample of (354) faculty members.Results have revealed that the sample agreement came at a high degree on both the reality of organizational power in its dimensions as well as on the level of institutional creativity of academic leaders. A very strong statistically significant direct correlation has been found between the reality of the morganizational power and the level of institutional creativity. Moreover, the statistically gender-based significant differences detected among the mermbers' response averages about the sources of compulsion power and experience power were in favour of males and females, respectively. Speaking of the academic degree variable in the source of experience power, it was in favor of assistant professor category.
Downloads
Download data is not yet available.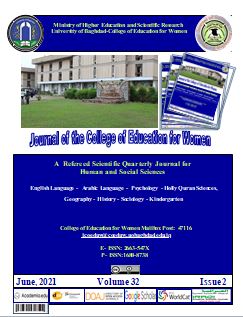 How to Cite
Al-Asmari, S. A.-K., and A. H. Alqarni. "The Sources of Organizational Power Prevailing Among Academic Leaders at University of Tabuk and Its Relationship to Institutional Creativity from the Viewpoint of Faculty Members". Journal of the College of Education for Women, Vol. 32, no. 2, June 2021, pp. 66-85, doi:10.36231/coedw.v32i2.1491.

All articles published in Journal of College of Education for Women are licensed under a Creative Commons Attribution 4.0 International License.