Teaching Arabic to Non-Native Speakers between Communication and Pragmatics:Qualitative Approach in Light of the Common European Framework of Reference for Teaching Foreign Languages
هداية تاج الأصفياء حسن البصري
Hidaya Tag Elasfia Hassan Elbasre
Keywords:
Communication, expert student,language use, Teaching Arabic
Abstract
This research is qualitative in nature. It aims to investigate descriptively, analytically, and comparatively the modern AK model represented by the Sudan Open University Series, and the European framework, the common reference for Teaching Foreign Languages, to uncover what was achieved in them in terms of communication and language use. Accordingly, an integrated, multi-media approach has been adopted to enable the production and reception activities, and the spread of Arabic in vast areas of the world. Such a spread helps Arabic language to be in a hegemonic position with the other living languages. The study is based on getting benefit from human experiences and joint work in the field of teaching Arabic to non-Arabic speakers to meet the needs of learners. Such knowledge helps to overcome the pragmatic dimension dilemmas, and the duality between formal and colloquial, leading as a result to have a global recognition of its outputs. The study revealed the importance of building the communication and pragmatic capabilities of language learners since they both represent the  life and vitality of language. It further necessitates rebuilding curricula and updating them in a way that makes communication and the use of language a reality. The research recommended eliminating any difficulties that face the Arabic language learner from the non-speakers, by making use of what was provided by the Common European Framework of Reference for Teaching Foreign Languages.
Downloads
Download data is not yet available.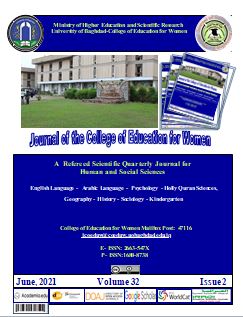 How to Cite
Elbasre, H. T. E. H. "Teaching Arabic to Non-Native Speakers Between Communication and Pragmatics:Qualitative Approach in Light of the Common European Framework of Reference for Teaching Foreign Languages". Journal of the College of Education for Women, Vol. 32, no. 2, June 2021, pp. 55-65, doi:10.36231/coedw.v32i2.1490.

All articles published in Journal of College of Education for Women are licensed under a Creative Commons Attribution 4.0 International License.