The Stories of Proverbs in the Holy Qur'an, Prophet's Hadith, and Arabs' Sayings: A Literary Study
مسلم عبيد فندي الرشيدي
Keywords:
Hadith, proverbs, the Holy Qur'an, stories
Abstract
The Arab realized that proverbs and their stories had a great literary and linguistic significance, accordingly, they collected them from their sources and wrote them down. Thus, researchers went in studying them in different directions. The aim of the present research is thus to study the stories of proverbs in the Holy Qur'an, Prophet's hadiths, and in the sayings of Arabs. Such a study helps to show the extent of the relevance of their stories to the proverbs, their literary values, the points of convergence between them and what they highlight, and the extent of their proximity to reality. It further helps to determine the factors that contributed to the transformation of Quranic verses, Prophet's hadiths, and some phrases of stories into proverbs. Accordingly, the researcher has adopted the descriptive analytical approach to comparatively examine the stories behind these proverbs, sheding light on the different interpretations being highlighted by different narrators. As for the most important results of the study, they are: Behind most of the proverbs are stories written in a high narrative language that addresses their past events, and gives them  an artistic taste of preaching senses. They also bear a lot of simple, artistic, and brief features. Proverbs are used in everyday and are as simply recalled as that of the Qur'anic verses in accordance with the events that people experience. Many proverbs are widely used by many people without knowing about their real stories, and have many interesting, concise and entertaining interpretations. Or, they might be used to describe real events or bases for such real events.  
Downloads
Download data is not yet available.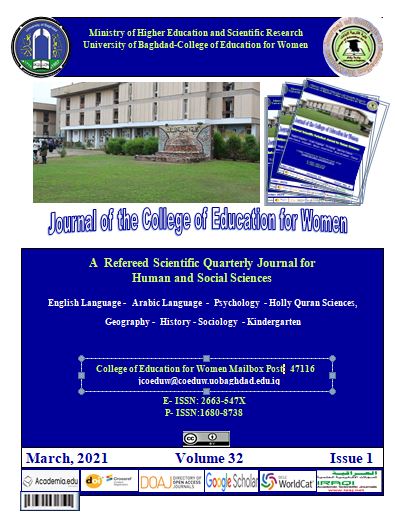 How to Cite
Al-Rashidi, M. O. F. "The Stories of Proverbs in the Holy Qur'an, Prophet's Hadith, and Arabs' Sayings: A Literary Study: مسلم عبيد فندي الرشيدي". Journal of the College of Education for Women, vol. 32, no. 1, Mar. 2021, pp. 17-25, doi:10.36231/coedw.v32i1.1461.
License

All articles published in Journal of College of Education for Women are licensed under a Creative Commons Attribution 4.0 International License.