Imagination and Emotional Impact by Constructional Methods:Al-Almohdeen's (Believers') Poetry in AhlAl-Bayt, (peace be upon them) as a Model
Zahra Dhar Latif

قسم اللغة العربية- كلية التربية للبنات ـ جامعة بغداد

Jinan Qahtan Farhan
Keywords:
imagination, emotional influence, structural style, believers' poetry, AhlAl-Bayt.
Abstract
The language that consists of only twenty-eight letters, but it is so broad that we are unable to understand it from all sides and this expansion is mainly caused by imagination, so Arab imagination, whose language goes in all directions And as it always responds to our ears, ancient critics divide imagination into holistic and partial But the language is not limited to these parts only. Do we wonder, where is the structural method of wishing, hope, questions and other methods of all this? In this paper, we try to show the importance of the method of writing in moving imagination in an interactive way, and what is related to human feelings in most, if not all, of its methods By studying the poetry of the believers in the Ahl al-Bayt, peace be upon them, this poetry that is characterized by the sincerity of feelings away from gain and other things that may distort feelings. The research came with an introduction to imagination and its connection to emotion, and then we talked about the structural method with its demand axial and non-demand, and the research ends with the conclusion. The most important findings of the research, as well as the margins of the research, and a list of sources and references are approved therein, and a summary in English.
Downloads
Download data is not yet available.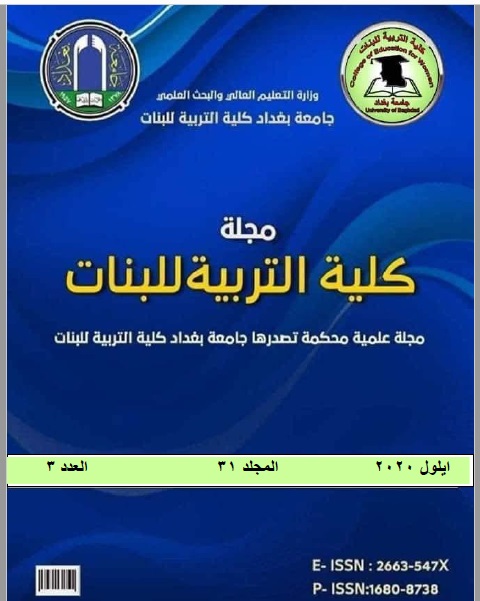 How to Cite
Latif, Z. D., and J. Q. Farhan. "Imagination and Emotional Impact by Constructional Methods:Al-Almohdeen's (Believers') Poetry in AhlAl-Bayt, (peace Be Upon Them) As a Model". Journal of the College of Education for Women, Vol. 31, no. 3, Sept. 2020, pp. 43-51, doi:10.36231/coeduw/vol31no3.4.

All articles published in Journal of College of Education for Women are licensed under a Creative Commons Attribution 4.0 International License.