A Critical Discourse Analysis of Martin Crimp's Piece "Advice to Iraqi Women"
عفراء عبد الحسين ناصر , سراب خليل
Afraa Abdulhussein Nasser

Sarab Khalil
Keywords:
Crimp's piece "Advice to Iraqi Women", critical discourse analysis, Iraqi women, Martin Crimp, political ideology
Abstract
Language is a vehicle for social values and ideologies that a man intends or attempts to express. Dramatic texts are one of the discursive practices that embody values and ideologies. What is expressed in dramatic text is deliberate because it is meant to affect other's values, trends and ideologies in one way or another. Such ideologies and values are not explicit. To bring them out requires putting language under scrutiny to unveil what is implied. The present study attempts to analyze a dramatic script entitled Advice to Iraqi Women by the British playwright Martin Crimp in an attempt to unveil the intended political ideologies underlying the text. The title reflects a political aspect embedded in the word "Iraqi" that brings to the mind the war broken out there at that time. Notwithstanding that the script is written in such an unusual manner that appears to the reader or the spectator to be domestic, familiar and free from any political indications. The model adopted in the analysis of Crimp's theatrical piece is that of van Dijk's macro and microstructure analysis within critical discourse analysis. Results have manifested the political ideologies that the writer intends to convey.  He attempted to bridge a gap and render the English society to be associated emotionally with the repercussions of the remote war by amalgamating what is familiar with what is unfamiliar.
Downloads
Download data is not yet available.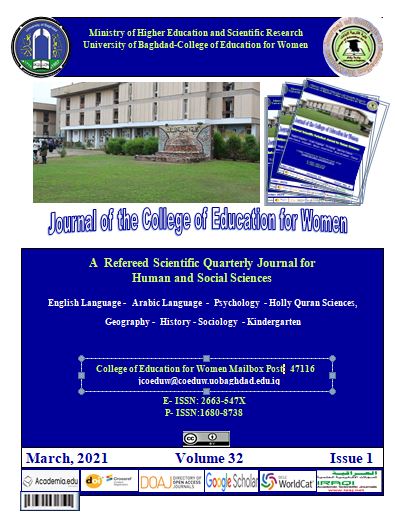 All articles published in Journal of College of Education for Women are licensed under a Creative Commons Attribution 4.0 International License.