Social Protection and its Impact on the Cohesion of Vulnerable Groups: A Field Study of a Sample Social Protection Network Beneficiaries
دينا داود محمد المولى
Dina Dawood Muhammad Al-Mawla
Keywords:
الحماية الاجتماعية ، الإعانات المادية، الفقر، الفئات الهشة
Abstract
Social protection meets different aspects of the needs of vulnerable groups, such as the economic, health, education, and family relations and ties in the Iraqi society. This is because vulnerable groups have suffered from social and economic influences that have negative implications on the social reality as a whole. Poverty is a case in point, which paved the way to frequent setbacks that have led to social structure instability. Accordingly, the present study aims to examine the role and effect of the Net of Social Protection Program in equally distributing social protection to curb or mitigate any negative consequnces that might happen to the poor segments and vulnerable people, who are succeptible to shocks, such as: the orphans, unemployed, disabled and the poor. Since such a step reduces poverty rates, the Ministry of Labor and Social Affairs has sought through its social protection network programs to achieve equality, the biggest achievement to the country. Having examined the issue, the researcher has found that there is no social justice in distributing material guarantees to the poor or the people in need. There are several individuals whose names are registered in the lists of the people in need. Such names are either fake or belong to people who do not really need such aids. According the puposes behind the present aims are to: maintain fairness in distributing cash collaterals for the people who live below the poverty line in need, overcome the difficulties of coping with the poor community, deal with those people positively, and uplift them. The study has concluded that the number of poor people is increasing in the Iraqi society. Besides, such groups of people need to be respected, severed and provided with a decent way of living. All such rights are part and parcel of human rights.
Downloads
Download data is not yet available.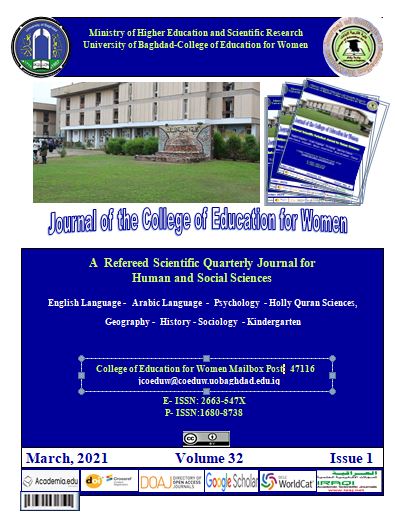 How to Cite
Al-Mawla, D. D. M. "Social Protection and Its Impact on the Cohesion of Vulnerable Groups: A Field Study of a Sample Social Protection Network Beneficiaries". Journal of the College of Education for Women, Vol. 32, no. 1, Mar. 2021, pp. 93-05, doi:10.36231/coedw.v32i1.1468.

All articles published in Journal of College of Education for Women are licensed under a Creative Commons Attribution 4.0 International License.