The Role of Social Work in Reducing the Phenomenon of Fanaticism
حسن فاضل جواد
Keywords:
human being, humanitarian project, philosophy, sectarian and religious intolerance, Social work
Abstract
The present study is concerned with the concept of ethics academically. It aims to investigate the major problems that contemporary Iraqi society suffers from; on top of which is the problem of sectarian and religious intolerance. Such a problem has a major role in the emergence of extremism and terrorism. It further destabilizes the security and stability of the country, exposing, as a result, the lives of citizens to the danger of genocide, disintegrating the social structure, stopping the wheel of development, rampant corruption, and deteriorating the political, social, moral and economic situation. Here comes the role of social work as governmental institutions and civil society organizations in curbing this reprehensible phenomenon in the hope of overcoming it. Such a role is in conformity with and implements the developmental, curative, preventive, and ethical objectives of social work, especially in the areas of: awareness, social construction unification, social peace, and of spreading the ethics of tolerance and social justice. It further helps to build the civil state, spreads the spirit of citizenship, and the respect for laws. Moreover, it encourages transforming the principles and human rights charters into a practical and lived reality. The research also summarizes the researcher's philosophy of (humanity), stating that: it is a single ethic for multiple cultures. It can be a base for actions and relationships within the framework of the optimal approach for the civil state, social work institutions, civil society organizations, local and international bodies and for departments working in the same direction. Such a philoshophy  leads to overcome the strenuous obstacles left by sectarian and religious fanaticism in contemporary Iraqi society.
Downloads
Download data is not yet available.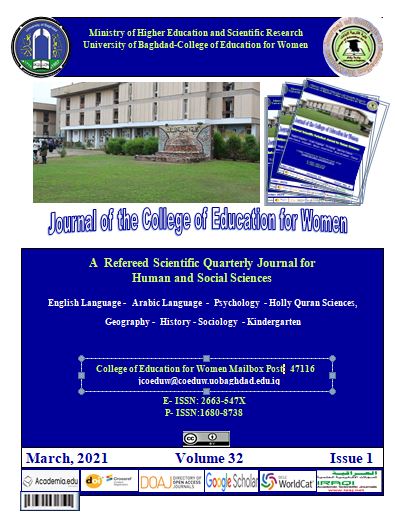 How to Cite
Jawad, H. F. "The Role of Social Work in Reducing the Phenomenon of Fanaticism". Journal of the College of Education for Women, Vol. 32, no. 1, Mar. 2021, pp. 81-92, doi:10.36231/coedw.v32i1.1467.

All articles published in Journal of College of Education for Women are licensed under a Creative Commons Attribution 4.0 International License.