Pre-Islamic Features in the Poetry of Al-Raei Al-Nawmiri
أسيل عبود جاسم
Keywords:
Al-Numayri, creativity, literary imprint, pre-Islamic poetic features, pioneer poets
Abstract
This research is dedicated to study Al-Ra'ee Al-Numayri, a distinctive poetic character, to find out the most important (artistic) pre-Islamic features that contributed to its formation. It is further dedicated to know the influence of these features on his literature in the literary arena. After surveying his poetic texts and reading them according to the analytical and investigative methods, the art of the researcher was limited to the  field of  traditionalists. He was following the footsteps of the ancients by adhering to the traditional Arabic poetry style and the traditional poetic image. Despite that, he had his own imprints and  unique style of interrogating times and places with its people, animals and plants. He drew creative, sensual, and artistic poetic images.He bestowed movement and life to his talismanic and flirtatious images by describing the journey and the camel that won the honor of the poet's eternal participation in all his poetic texts. Consequently, his camel became his legendary animal that accompanies him in his solitude and travels. The participation of the camel in his poetry was an emotional participation of his hopes and pains as well as a test to his patience and dream as it is his partner in his endeavors to praise and obtain the giving and dew of what is desired by him. In the midst of all these events, the effectiveness of the poet's imagination ranked him among the pioneers of Islamic poets. The research falls into an introduction and four axes that clarify the most important of features of his poetry. The study proved his superior poetic ability despite his commitment to the traditionalists.
Downloads
Download data is not yet available.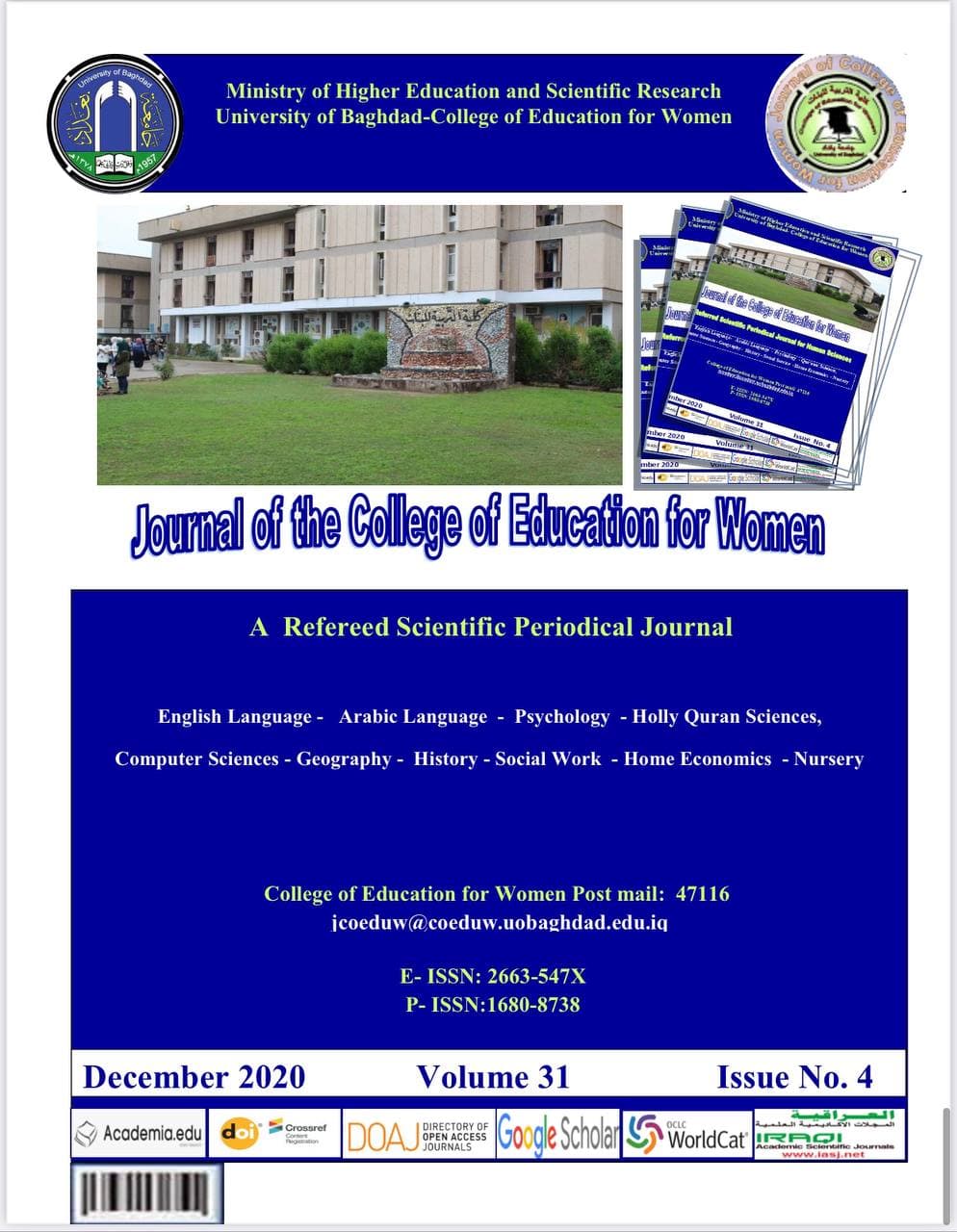 How to Cite
Gasim, A. A. "Pre-Islamic Features in the Poetry of Al-Raei Al-Nawmiri". Journal of the College of Education for Women, Vol. 31, no. 4, Dec. 2020, pp. 26-38, doi:10.36231/coedw.v31i4.1425.

All articles published in Journal of College of Education for Women are licensed under a Creative Commons Attribution 4.0 International License.