The Effectiveness of PDEODE Strategy in Acquiring Historical Concepts in the Subject of History for Students of the Fourth Literary Grade
Aseel Fayek Hassan

وزارة التربية/ مديرية تربية بغداد الكرخ/ الثالثة
Keywords:
pdeode strategy, historical concepts, acquisition.
Abstract
The research aims to know (the effect of the pdeode strategy) in acquiring historical concepts among the fourth-grade literary female students in the history module. To achieve the goal of this research, the following null hypothesis was formulated. There is no statistically significant difference at the level of (0.05) between the average scores of the experimental group students, who study history according to the PDEODE strategy, and the average scores of the control group students who study the same module in the traditional way of the historical concepts acquisition test.The researcher chose the experimental method for the current research and adopted the experimental design of partial control with a post-test, which depends on the experimental group that is taught using the pdeode strategy, while the control group studied using the traditional method. The research sample comprised of (60) female students, including (30) female students in the experimental group, and another (30) female students in the control group.The researcher equated the two groups in (IQ test, chronological age calculated in months), then the researcher tried to control a number of extraneous variables that may affect the dependent variable. As for the scientific material, it included the topics of the chapters (first, second, third, fourth and fifth) of the history textbook to be taught for the academic year 2018/2019, and the researcher personally taught the two research groups during the first semester... 
Downloads
Download data is not yet available.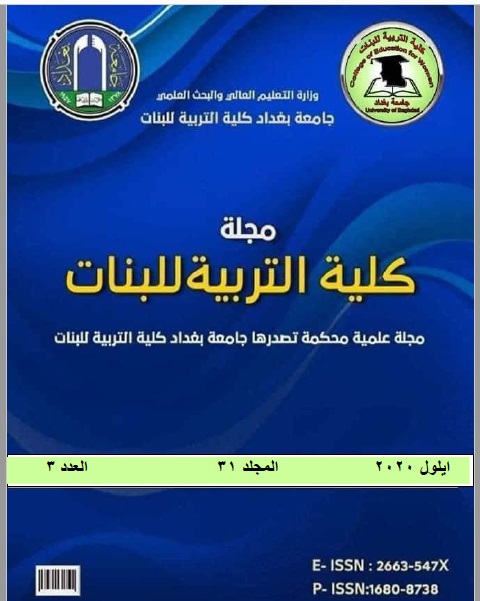 How to Cite
Hassan, A. F. "The Effectiveness of PDEODE Strategy in Acquiring Historical Concepts in the Subject of History for Students of the Fourth Literary Grade". Journal of the College of Education for Women, Vol. 31, no. 3, Sept. 2020, pp. 85-03, doi:10.36231/coeduw/vol31no3.7.

All articles published in Journal of College of Education for Women are licensed under a Creative Commons Attribution 4.0 International License.