The Impact of a Counseling Program with a Cognitive Reconstruction Method on the Development of the Psychological Hardness among Middle School Students
Keywords:
Cognitive reconstruction, Counseling program, preparatory school, Psychological hardness
Abstract
The current research aims to determine the impact of the cognitive reconstruction program on the development of psychological hardness among middle school students through the experimental verification of three hypotheses. The research sample consisted of (16) out of (450) students selected from Ibn Rushud preparatory school- Al-Rusafa 2. These participants have been randomly distributed into two equal groups. The researcher has used the method of cognitive reconstruction with the experimental group, whereas with the controlling group, he used nothing. The researcher has further used the scale of psychological hardness of Kobassa with the participants; the scale has been built in a way that suits the sample of the study, which consisted of (24) items. The distinctive and validity items of the scale have been extracted by the jury members and experts using the method of face and construction validity, which completed the preparatory procedures of the psychometric scale. As for the reliability of the study, it has been measured by the researcher through the use of Alfackronbach factor, which reached (0, 83). The number of the program sessions reached (12) sessions; each session is of 45 minutes distributed for (6) weeks; that is, (2) sessions per week. Results have shown that there are no statistically significant differences between the scores of the experimental and control groups regarding the psychological hardness scale at the level of significance 0.05. This indicates that the counseling program according to the method in which it has been prepared has a clear effect on the enhancement of psychological hardness among the students of the preparatory stage.
Downloads
Download data is not yet available.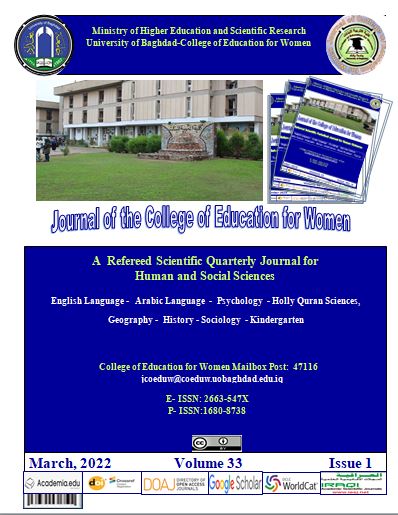 How to Cite
Mahmoud, K. I. . "The Impact of a Counseling Program With a Cognitive Reconstruction Method on the Development of the Psychological Hardness Among Middle School Students". Journal of the College of Education for Women, vol. 33, no. 1, Mar. 2022, pp. 68-81, doi:10.36231/coedw.v33i1.1564.
License

All articles published in Journal of College of Education for Women are licensed under a Creative Commons Attribution 4.0 International License.