The Geographical Analysis of Health's Field for Families in Al-Adhamiyah and Rusafa Districts in 2016
سمر حسين عكله, و صلاح محسن جاسم
Samar Hussein Oglah

Salah Muhsin Jasim
Keywords:
Health's Field, Living Standards, Ratio of Deprivation
Abstract
This research aims to analyze the indicators of spatial variation in the guide of health field in both Al-Adhamiyah and Rusafa districts according to the environmental and administrative units in 2016. The analysis was done by groups of health guide indicators. The objectives of the study were to identify the spatial variation of health services and assess the health situation for families following the environmental and administrative units of the studied area. Such objectives can be done by specifying the extent of the families' consent to the type of services, measuring the cases of deprivation, and identifying the most deprived areas. The study has finally concluded that there is a clear spatial variation between the indicators and the guide of health with respect to the environmental and administrative units. The percentage of deprivation of the families according to the guide of health's field was 16.43% .On the other hand, the sustained families and those who are in a better situation were accounted for 25.18% and 58.39%, respectively. Furthermore, the highest deprivation percentage according to the health's guide field was in Rashidiya area with a deprivation percentage reaching 30%, while the lowest percentage was in Rusafa district, 9.09%. Moreover, the study has found that the highest deprivation percentage was the indicator of the quickest access to hospital. Their deprivation percentage reached 53.42% whereas the care indicator during pregnancy shows a less deprivation ratio, reaching 1.05% for the studied area.
Downloads
Download data is not yet available.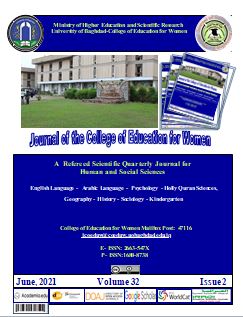 How to Cite
Oglah, S. H., and S. M. Jasim. "The Geographical Analysis of Health's Field for Families in Al-Adhamiyah and Rusafa Districts in 2016". Journal of the College of Education for Women, Vol. 32, no. 2, June 2021, pp. 147-62, doi:10.36231/coedw.v32i2.1497.

All articles published in Journal of College of Education for Women are licensed under a Creative Commons Attribution 4.0 International License.