Education and the Challenges of Globalization during the Corona Pandemic: A Field Study from Baghdad University Professors' Point of View
ميسم ياسين عبيد
Keywords:
Corona Virus, Education, Globalization
Abstract
study aims to examine education and the challenges of globalization in light of Corona pandemic. The examination involves surveying a randomly selected sample from the University of Baghdad's professors, particularly from the colleges of Education for Women, Arts, and Sciences. The purpose of this examination is to learn about the dimensions of globalization, its effects on the educational process, and the importance of distance education during the spread of Corona virus quarantine. To achieve this, the researcher followed a descriptive and analytical approach by applying a questionnaire to a sample of 70 teachers who were randomly selected electronically. Results have shown that 78.6% emphasized the contribution of globalization during Corona pandemic to develop teachers' ability to employ modern technology and informatics. Besides, 65.7% pinpointed the role of globalization in activating the dialogue between teachers and learners during the discontinuation of the traditional means of teaching. This further allowed for continuity and non-stop education. Besides, there are differences between the effects of globalization and the learning of violent behavior for students attributed to gender and for the benefit of males. In addition, there are no statistically significant differences between globalization and academic achievement of students during corona pandemic at the freedom degree (1) and level of significant (0.05). Accordingly, the study recommended the need to review the educational system and reformulate its goals, objectives, goals and curricula in light of the globalization of knowledge that has become a reality. This can only be achieved by developing the capabilities of the teachers and the learners to face the challenges of globalization and get adapted to them.
Downloads
Download data is not yet available.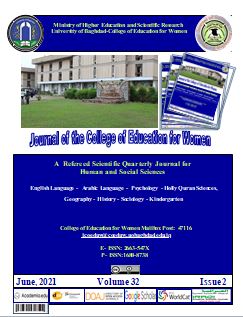 How to Cite
Obaid, M. Y. "Education and the Challenges of Globalization During the Corona Pandemic: A Field Study from Baghdad University Professors' Point of View". Journal of the College of Education for Women, Vol. 32, no. 2, June 2021, pp. 100-13, doi:10.36231/coedw.v32i2.1494.

All articles published in Journal of College of Education for Women are licensed under a Creative Commons Attribution 4.0 International License.