Estimates of Palestinian University Students in Gaza Governorate to the Contribution Degree of Teaching Human Sciences in their Political Education
محمود عبد المجيد عساف
Mahmoud Abdel-Majeed Assaf
Keywords:
Humanities, Palestinian Universities, Political Education
Abstract
The study aims to examine the estimation of a sample of Palestinian University students in Gaza governorate to the contribution of teaching human sciences in their political education. It further aims to reveal whether there are statistically significant differences at a significance level (α≤ 0.05) between the averages of the sample. Such differences might be attributed to the following variables: sex, residential area, specialization. To achieve this, the researcher used the descriptive approach by applying a tool of (50) items on (618) randomly chosen male and female students from the largest Palestinian universities in the governorates of Gaza. Results have shown that: the overall degree of estimation to the contribution of teaching human sciences to political education was (68.43%), where the fields culture and political self-components ranked first with a relative weight of (72.09%), the fields awareness and political participation ranked second with a relative weight of (64.76%), and that there are no statistically significant differences between the average scores of the sample's estimates to the degree contribution of teaching human sciences in Palestinian universities to political education. That was due to the variables of residential area and gender. However, differences were found due to the variable of specialization in favor of (Sharia sciences). Finally, the researcher recommended reformulating the contents of some human sciences in Palestinian universities, including: the problems of society, political awareness of the rights and duties, and having care about the methods of teaching human sciences that enhance the patriotism, such as the use of role-playing, simulation )modeling(.
Downloads
Download data is not yet available.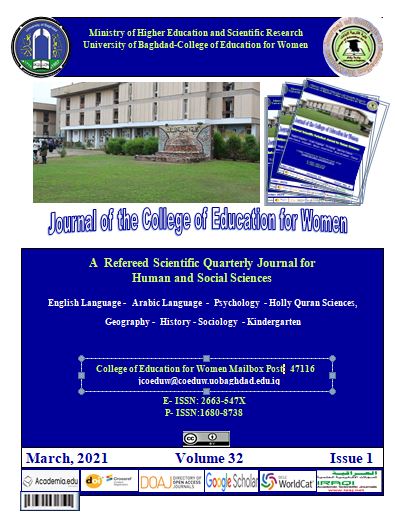 How to Cite
Assaf, M. A.-M. "Estimates of Palestinian University Students in Gaza Governorate to the Contribution Degree of Teaching Human Sciences in Their Political Education". Journal of the College of Education for Women, Vol. 32, no. 1, Mar. 2021, pp. 64-80, doi:10.36231/coedw.v32i1.1466.

All articles published in Journal of College of Education for Women are licensed under a Creative Commons Attribution 4.0 International License.