Technology of Education and the Technical Reality of Education in Sudan: Analytical Samples
أسماء محمد الأمين محمد البشير
Keywords:
Business Education, Education Technology, Technical School
Abstract
This study aims to examine the technologies of education and their importance, shedding light on their reality and  status in Sudan especially in the secondary stage. It has become necessary to invest these technologies and include them in different aspects of the technical education curricula. Such a step helps cope with the innovative scientific development in the advanced countries, qualify professors and technicians, develop the factories and workshops, and create an attractive technical educational environment to the pupils. Thus, the researcher has adopted a descriptive analytical approach that is based on conducting pilot visits to certain technical schools in Al-Khartoum state. Different aspects of such schools were examined, such as: (crafts, commercial, female technical). Moreover, some interviews were made with a purposeful sample of headmasters and teachers of  schools, taking into account their notes and suggestions.  In addition, the technical education department at the ministry of education was visited to stand upon the workshops' recommendations and the scholarly papers presented in the field of technical education in Sudan. The study finally has concluded that the technical education in Sudan needs much more focus on using modern technology to cope with the scientific development of curriculla, educators and different educational tools. In addition, many parents do not encourage their children to go for such a type of education as they ignore the value of technical education.
Downloads
Download data is not yet available.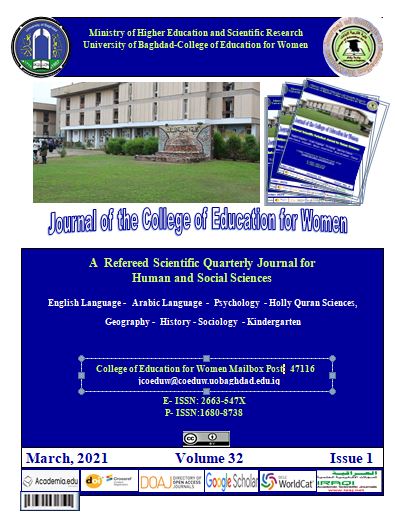 How to Cite
Alameen, A. M. "Technology of Education and the Technical Reality of Education in Sudan: Analytical Samples: أسماء محمد الأمين محمد البشير". Journal of the College of Education for Women, vol. 32, no. 1, Mar. 2021, pp. 50-63, doi:10.36231/coedw.v32i1.1464.
License

All articles published in Journal of College of Education for Women are licensed under a Creative Commons Attribution 4.0 International License.