The Effectiveness of a Structural Theory- based Training Program in Enhancing Arabic Language Teachers' Teaching Practices and their Tendencies towards Structural Teaching
مريم بنت حسن البلوشي، ريا بنت سالم المنذري، علي مهدي كاظم
Maryam Hasan Al Balushi

Rayya Salim Al Manthari

Ali Mahdi Kazem
Keywords:
structural teaching, tendencies, training
Abstract
The study aims to identify the effectiveness of a structural theory-based training program in enhancing the teaching practices of Arabic language teachers teaching grade ten in South Al Batinah in Sultanate of Oman. The study used the quasi-experimental design, and the sample consisted of 40 male and female teachers. To achieve the objectives of the study, a training program, an observation form and a measurement tool of teachers' tendencies towards a structural teaching were made. The program was implemented with an experimental group of 20 female and male teachers in the first semester of the academic year 2018/2019. The study has found that there is a statistically significant difference between the average grades before and after implementing the program, with higher grades achieved after implementation. There has also been no statistically significant difference between the average grades in the post implementation phase due to the social variable. The researcher recommended organizing training courses for Arabic language teachers to expand their knowledge of educational theories and their applications in classroom teaching practices, and benefiting from the structural teaching observation form in educational supervision.
Downloads
Download data is not yet available.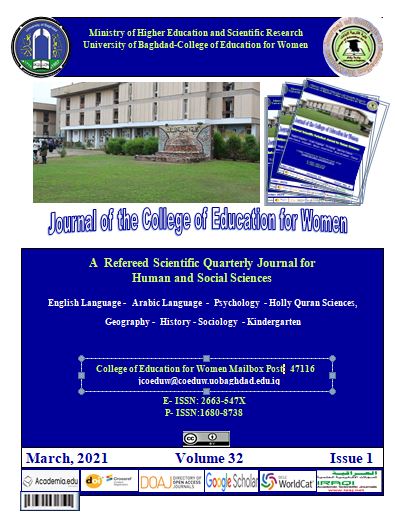 How to Cite
Al Balushi, M. H., R. S. Al Manthari, and A. M. Kazem. "The Effectiveness of a Structural Theory- Based Training Program in Enhancing Arabic Language Teachers' Teaching Practices and Their Tendencies towards Structural Teaching". Journal of the College of Education for Women, Vol. 32, no. 1, Mar. 2021, pp. 36-49, doi:10.36231/coedw.v32i1.1463.

All articles published in Journal of College of Education for Women are licensed under a Creative Commons Attribution 4.0 International License.