The Effect of Using the Fear of Failure Motivation Teaching Technique on the Achievement of Students from the Department of the Holy Quran and Its Sciences at Khawlan Faculty of Education in Sana'a University
عبدالغني علي المقبلي
Keywords:
academic achievement, fear of failure, method, motivation
Abstract
Nowadays, university education stands in front of both students who feel they are weak and teachers who are addicted to using traditional and dependent teaching. This has led to have negative repercussions on the learner from different aspects, including the mental aspect and the academic achievement process. Therefore, the present research is concerned with finding a new teaching method that adopts the motivation by the fear of failure technique. Thus, the study aims to examine the effect of adopting this method on students' academic achievement. To achieve this aim, an experimental method was used, and an achievement test was built for the curriculum material of level two students. The pretest test was applied on 17 male and female students, then, the teaching was carried out using the motivation method of fear of failure. Later, the post-test was applied on the same sample.
Downloads
Download data is not yet available.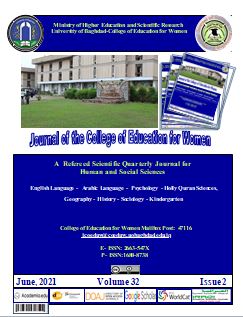 How to Cite
Al-Muqbali, A.-G. A. "The Effect of Using the Fear of Failure Motivation Teaching Technique on the Achievement of Students from the Department of the Holy Quran and Its Sciences at Khawlan Faculty of Education in Sana'a University: عبدالغني علي المقبلي". Journal of the College of Education for Women, vol. 32, no. 2, June 2021, pp. 39-54, doi:10.36231/coedw.v32i2.1489.
License

All articles published in Journal of College of Education for Women are licensed under a Creative Commons Attribution 4.0 International License.