Argumentative Communication in Rawdat Al-Muhebben wa Nozhatt Al-Mushtaqeen's Book by Ibn Al-Qayyem: The Foundations and Mechanisms of its Functioning
مريم إبراهيم علي غبان
Maryam Ibrahim Ali Hamed Ghabban
Keywords:
Argumentative Communication in Rawdat al-Muhebben wa Nozhatt al-Mushtaqeen's Book by Ibn Al-Qayyem: The Foundations and Mechanisms of its Functioning
Abstract
This research seeks to unravel the components of the argumentative discourse in the Book of ʻRawdat al-Muhebbeen wa Nozhatt al-Mushtaqeen' - The Garden of Lovers and the Promenade of Longing People – by Ibn Al-Qayyem Al-Jawziyah. This is because this book has a moderate discourse with a sound Islamic thought that is characterized by its sustainability, popularity, realism, and interaction with the successive developments of the new age. This reflects the intellectual maturity the composing process has reached in the philosophy of love and its educational bases in every place and time. To explore the componets, properties, and the working mechanisms of an argumentative discourse in Ibn Qayyem's book, the present work has been conducted using a pragmatic closeness approach among the three communication polars: (sender, receiver, and message). Through the third pole, the researcher attempts to interpret the text internally, shedding light on its philosophical and aesthetic semantic significance. Such a type of analysis helps reveal the logical argument that conforms to the spirit of the age during which the book appeared. This can be clarified by exploring the sender's employed emotional arguments that are connected to the recipient and his persuasive realistic experiences. All the above discussion reveals the secrets of a discourse and its hidden points, establishes the values of a dialogue and persuasion, accepts the differences, and reconciles between the different opinions. Accordingly, an argumentative entery has been chosen as it represents a communicative act that is based on a set of interactive rules orienting interlocuters' intentions.
Downloads
Download data is not yet available.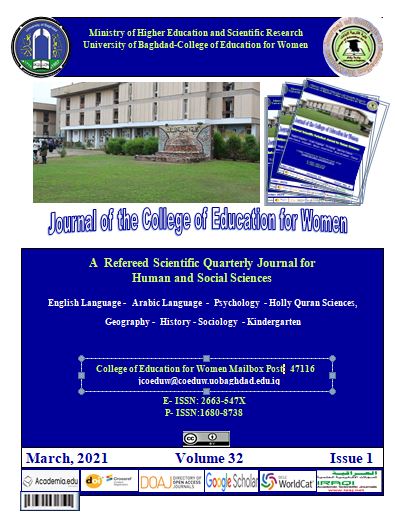 How to Cite
Ghabban, M. I. A. H. "Argumentative Communication in Rawdat Al-Muhebben Wa Nozhatt Al-Mushtaqeen's Book by Ibn Al-Qayyem: The Foundations and Mechanisms of Its Functioning". Journal of the College of Education for Women, Vol. 32, no. 1, Mar. 2021, pp. 1-16, doi:10.36231/coedw.v32i1.1457.

All articles published in Journal of College of Education for Women are licensed under a Creative Commons Attribution 4.0 International License.